Home of Cactus Bars McCue
Living Water Paints and Quarters raises and trains registered American Paint Horse Association (APHA)
and American Quarter Horse Association (AQHA) horses. The horses are handled often and they can be
halter tied and lead, loaded & trailered, & hooves trimmed & clipped. You may ask us to put riding training on
any of our 'for sale horses' just for you. ** NOTE Be sure to read important details for Cactus Bars McCue,
on his own stallion page not found here!! His dam's half sister is Cactus Christy & to be awarded on Feb 29, 2020
APHA Hall of Faame Horse in cutting, halter and reining, Working Cow Horse & Western Pleasure!!
Consider what our foundation stallion Cactus Bars Mccue, or Victory as we like to call him, is as a horse. His DNA, gentle disposition & athletic ability come from his pedigree which makes it easy for him to be trained & handled. He has only about 3 months of riding training & use on him yet we have done parades like Saskatoon city, clinics, trail rides, various shows & competitions including APHA. Also team roping & ranch club at Lakeland College, Vermilion, Alberta. All with no fuss or problems!!
"I got Victory in 2001 & he had 1 month riding training 2 years before this but had not been ridden since then. This was my first stallion to own & use. Before I purchased him I asked, "Because I am inexperienced & green as grass if you can ride him I will buy him?" Victory was saddled, bridled & ridden in a corral all in dignified manner in less than 1 hour!! His offspring have trained easily for me & others, just see my testimony page. For years I had ridden him bareback with halter & lead shank, never used a mouth chain on him, from corral to pasture there & back to breed mares." - Ed Lesko, owner/trainer
See Cactus Bars Mccue individual page
Living Water Paints and Quarters features versatile horses that can excel in any discipline or event. Our own interests are ranch and western competition horses. We competed with the Saskatchewan Reined Cow Horse Association (SRCHA) - reining, cutting, roping, working cowhorse. Cactus Bars Mccue's sire's sire along with his dam's sire have produced champion offspring in USA.
For information about our breeding stallions, visit our Stallions page
---
Check out our latest addition born on June 7th of 2022, a colt sired by our B&W Paint stallion Cactus Bars Mccue out of Otoes Miss April Bar. Introducing Psalm 139, or Oreo Cookie as we sometimes call him. (Not available for sale at this time)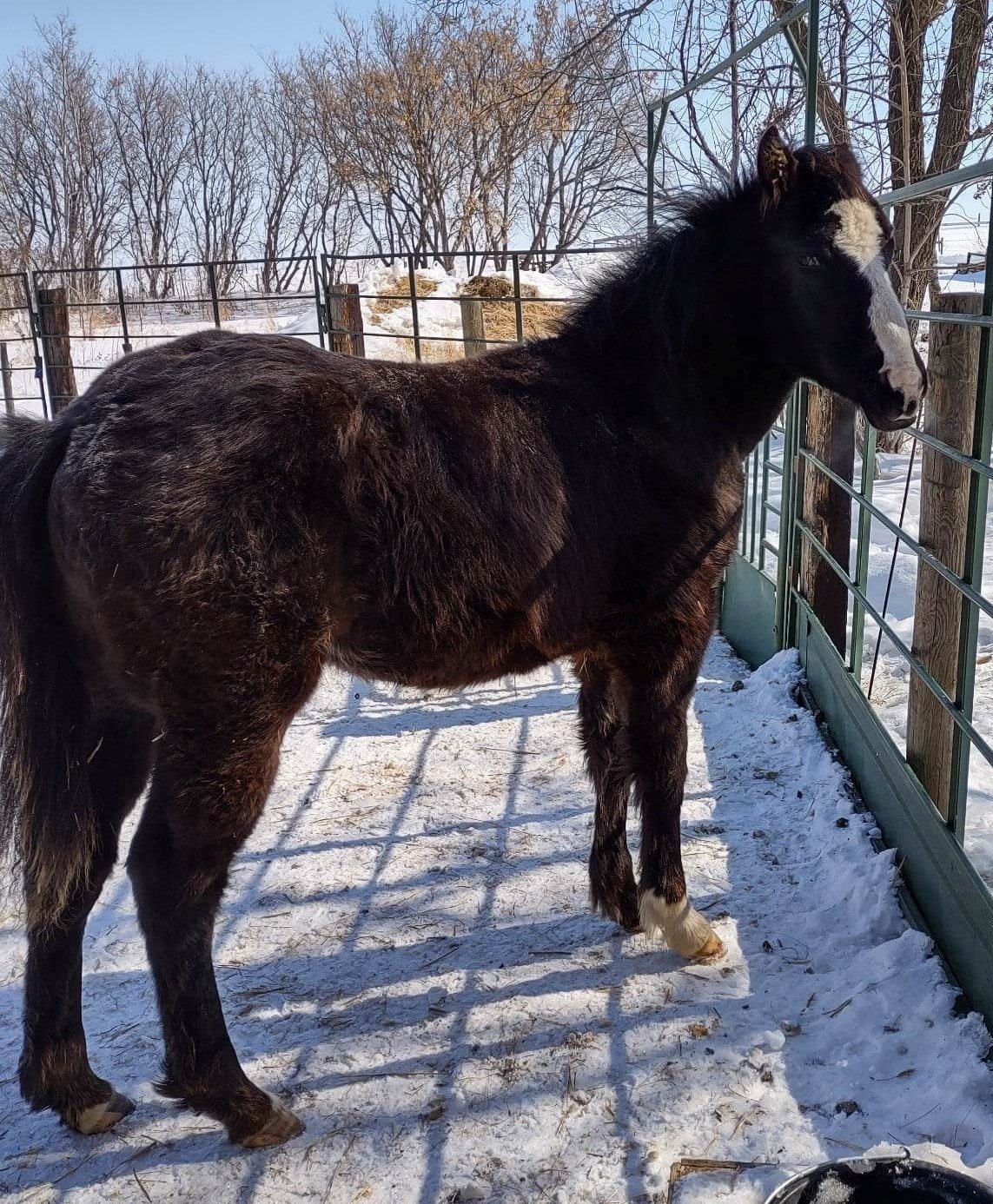 For longer videos, look us up on Facebook under Ed Lesko. To see many other 90 second videos of our horses, go to Facebook & find the Reels Section at Video selection heading. Then Click or Choose the Search Button or Symbol & type Ed Lesko & enter. It will show the videos.