Testimonials & Videos of Our Horses
We also offer riding training on any of our horses. You may purchase a young horse now & bring it back to us later for riding training when it is older. You may purchase an older horse now & ask us to put 1 month or more riding training on it. Our horses are being used in ranch & pasture work, SRCHA competitions, roping, trail rides, parades, driving, English riding, Western riding, jumping, etc. View the video clips below to see a sample of a horse that we raised & trained.


---
Testimonial:"Last spring I was looking for a pleasant, reliable and pretty but still affordable horse as a company for my 13 year old daughter. I did some research on the internet and after a while found Living Waters Paint breeder Ed Lesko in Langham and gave him a call. His mindset and motivation concerning breeding and treating his horses matched my expectations right away and so I took a drive to visit his place.

It didn't take me long to be reassured that we will purchase a horse there because Ed offers quite a variety of horses to choose from- every single one calm and well behaved. On a second trip with husband and daughter we finally chose Cactus Wars Delight, a beautiful and very calm filly, one year old. She was well halter broke and she's a blessing ever since we got her. She's very smart and my daughter appreciates her pleasant behaviour.

We play with her a lot and she seems to enjoy all the little challenges we give her. Since I train horses by myself I got her started with ground work plays a few weeks ago and her motivation is great. She's easy to convince and her mind is well balanced. My daughter even sat on her bareback for a few times already and the mare's expression was just like "new game?– I like it!!"

In spring I will introduce her to pull a light carriage and turn her out for the summer again because we want to take it easy. In the future she will be a perfect company for my daughter and a pleasure for all of us.

Without any doubt I would purchase another horse at Living Waters Paints. Ed and his wife are very honest and nice people. Thank you Ed for our nice filly!" - Tanja, Sven & Marina Straub from Meota, Sask
click on images to view larger
---
Testimonial:
"After scouring newspapers and the internet, we decided which characteristics we wanted most in a horse for our 13 year old daughter: a great personality and gentle disposition. We kept returning to the Living Water Paints and Quarters website. As soon as we met "Chance" (McCues Natural Bar), a 5 year old solid paint gelding, we knew he was the one. It's evident that good genetics are present in this horse. He is so personable and gentle that our daughter has done most of the training herself and within two weeks of bringing him home, she was riding him bareback. In three weeks, she had the saddle on him, and in four weeks he was on his first trail ride. He learns quickly and has the ability to retain that knowledge; he responds to very light pressure. He has good feet and a smooth trot. He is also quite calm - on his second trail ride, a moose crashed through the bush, startling the horses, and Chance just gave a little side-step. He also responds well to other horses - he is definitely not herd boss but can stick up for himself as well. The minute you enter the pasture, he comes to you and follows as if on a string. Chance is not only incredibly friendly and smart, but he's beautiful as well." - Neil, Misty & Aliyah Wasmuth - Perdue, Sask
click on images to view larger
---
Testimonial:
"After picking Justice up in the spring, we bonded quickly. I find him to be very willing with most every thing that he has been asked to do. He is a very honest horse and has a great temperament. He is very easy to trim and shoe as he has real nice feet. He has been to the Cypress Hills trail riding several times, worked cattle at a branding and my daughter used him a few times in 4-H (which I was lucky to get him back as she was thinking of retaining ownership). My son and I are going into team roping and he will do just fine. This winter I plan on doing more reining with him as well. We are lucky to find and have one good horse in our lives and I feel that I have found him in Justice. Ed and Gail were just awesome to deal with."
- David Chambers
Medicine Hat, Alberta
click on images to view larger
---
Testimonial:
"Petra (Norway is her new name) is doing wonderfully, she has grown alot and is turning into a horse instead of a foal. She has been a real treat to handle and we spent alot of time with her over the fall and winter. Her personality is fantastic. She has been the best colt we have ever raised. She stood wonderfully for the farrier who trimmed her feet for the first time. We have had the blanket and saddle on her and she never even batted an eye, just trotted around the yard behind me with no spook at all. She was so good that we put Tedi's 6 year old nephew on her bareback and led her around for about ten minutes and she never seemed to care one bit. Yes we are very happy with her.


UPDATE:
We are still enjoying her very much, she is such a treat, good around small kids or adults or other animals too. She has spent most of the summer just being a horse with the rest of the heard. She learned everything so fast last fall that there hasn't been alot to work on with her until she is old enough to break."
- Del Bergman & Tedi Lynn Waite
Wishart, Sask
click on images to view larger
---
Testimonial:
"Ed generously donated a filly to Redberry Bible Camp. It was our privilege to grow her out and start her. She grew well and will probably break 15.2 hands at maturity. She is a pretty, solid black. At a girl's ranch camp, I used her to demonstrate the beginning stages of training. I found her to be trainable and quick to learn, with a very good disposition. She should make an excellent pleasure horse. "
- Lew Wall, Lewby Ranch, Blaine Lake, SK
Update
"Raven is a quiet, well mannered five year old mare. She is about 15.2 hh. Raven is a quick learner a couple things she can do is,supple circles, two tracking, leg yielding, turn on the haunches and forehand. She easy to handle, and fun to ride."
Sara-Jane Willems
"Fall of '07, '08 we had your horse (who we named Raven) along with 7 other horses who are the same age broke by Adam Thiessen...Being just broke, I rode her a bit when I could, but never got to see how great of a horse she was until the summer when I got to spend a week riding her...Raven proved to have a very sound mind, and a stout heart. This past winter she was sent out to someone that I knew would get some good solid hours on her so that she can be used more during the summer. I am confident that she will turn out to be a great horse." - Karissa Cressman (Redberry Bible Camp Head Wrangler)
click on images to view larger
---
Testimonial:
"Mystic [Boreal Mystic Breeze] is growing like a weed. She is just around the 13.2 hand mark. I try to work with her daily, even if it is just tying her up for her to eat oats. She is easy to catch and stands to halter. I am really impressed with her ground manners. I have introduced her to all kinds of things-towels, rugs, blankets, brushing. At first things were a little scary but she is trusting and handles things with confidense in a short period. Now I can throw rugs, blankets, ropes all around her body and her legs without much fuss and she is confident I am not going to hurt her. She stands nicely for picking up her hooves and is pretty good with trimming now. I ponied her with my other mare and by the third short time out followed out on a loose lead. I can't wait to get out when the snow goes down and introduce her to more and more. I may even take her to some shows this summer and show her in halter."
- Elaine Sluchinski, Prince Albert, SK
Update:
"Boreal Mystic Breeze (Mystic) is a 2006 bay tobiano filly. She was purchased as a weanling in November 2006. She now is a niced sized solid filly (15.1hh) for her age and has lots of personality. She has a great disposition and is willing to learn and takes everything in stride. Extensive ground work was done as a long yearling and was ridden in April of her 2nd year. She has been ridden in the ring, but also trails by herself with no problem at all, often encountering all kinds of wildlife. She is starting to move off leg pressure nicely, lopes on the correct lead in both directions, and is giving to the bit. Mystic was started nice and slowly but is ready for more advanced work. She will be sent to a professional trainer in January of 2009, for aprox 2 months. She will be a diverse prospect."
November 2009 Update: "2009 Update for Boreal Mystic Breeze, 2006 bay tobiano, 15.2 hh
-Two months professional training in early 2009. Trainer was very happy with her progression for just 2 months.
-several clinics in spring/summer 2009
-continued training at home
-lots of trail miles
-Mystic is proving to be a very reliable, dependable, sane mount. She learns quickly and is very forgiving. She has progressed nicely with her training and is ready for more professional training in 2010. Hopefully 2010 will bring us to a few shows."

click on images to view larger

Dec 2006 weanling: halter training, leading, grooming, and ponying were all introduced to Mystic over the next few months without much fuss.

June 2007 yearling: first horse show - she's falling asleep

Dec 2007: first saddling. No buck no fuss.

April 2008 -One of the first rides. No buck no fuss.

June 2008 -training progressing nicely

June 2008

June 2008

2009

2009

2009

2009
May 2017 Update: I actually just sold Mystic this April. She has been wonderful mare for me and I did everything with her. From cowboy challenge, to reining, western and English pleasure, to ranch riding. Now its Mystic's turn to teach a young girl how to ride and gain confidence and just have a little fun. Elaine
click on images to view larger














---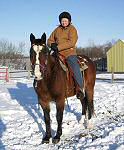 Testimonial: "I purchased the solid paint bred 3 year old gelding Otoes Cactus McCue in September 2006. I wanted a young stock horse to train and ride, after my quarter horse mare of 23 years passed away. This young paint gelding had excellent basic ground manners when I purchased him and it was obvious to me that he had been well handled by Ed during his formative years. He loaded like a dream. His feet were easy to handle. He readily accepted me on his back, although it was all new to him. This paint horse has a people friendly attitude and an ability to learn that is impressive. After a few "first rides" in the outdoor arena, to get a handle on basic skills, we hit the trails together on our property. I trail rode him throughout the fall and continued to head out into the great out of doors for trail rides at every opportunity throughout an exceptionally snowy Saskatchewan winter. This spring, I started to haul him to a local indoor arena to place more advanced demands on him. His formal training is progressing smoothly. He has been a safe, sane and trustworthy horse with alot of desire to please, smooth ground covering gaits and an easy going laid back personality. I am very happy with Otoes Cactus McCue. I encourage anyone interested in a good horse like him to check out the beautiful offspring of Cactus Bars McCue at Living Water Paints. A special horse may be waiting for you too." - Kathy Pauw Saskatoon.


Update: "Stanley (Oteos cactus McCue),has started his training for driving. He is coming along really nice. Very calm and very smart. Here is Oteos Cactus McCue AKA "Stanley", during his dressage lesson this weekend. As you can see he is quite beautiful and has, of course, a lovely disposition. I truely believe that he is a credit to your breeding program. I feel fortunate to have chosen him as my horse."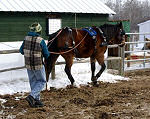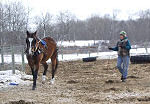 ---
Testimonial: "We are so very happy with Future [Cactus Bars Otoe]. He is very smart, willing, kind and has the best disposition of any horse I have met."

"Future has such a great personality. He is so eager to please and learns very fast. He is not spooky and has never bucked or bolted. He is very level headed but very competitive! He has always been the type of horse that after being out of work in the pasture for months you can get right back on without a hitch, no refresher needed! He is such a joy to have!" - Courtney from Wainwright, Alberta

We put 1 month riding training on Cactus Bars Otoe & used him for ranch work, trail rides, Saskatoon city & local town parades, roping training & jumping. He had not been ridden for about 1 1/2 years since his initial 1 month riding training and was very willing & progressing in riding training again. He was doing flying lead changes without any trouble. He is presently enjoying his new home with Courtney in Wainwright, Alberta where she is riding & training him in English riding & jumping. At present I also have this horse's dam & siblings for sale on my web site.

First Show: This past weekend was his first show - just outside of Edmonton. He was entered into 4 classes and he placed in all four classes. His first 3 classes he won 2nd
- English Equitation
- English Pleasure
- Baby Green Hunter (jumping)
He won 4th in the final class (Western/English Pleasure Stake).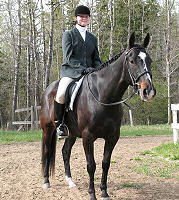 He was very good, he took everything in stride and wasn't phased by anything. He had his first bath, hair cut (clipping) and braiding (mane) the night before the show and he didn't mind any of it, we have been getting him use to a whole bunch of stuff so that all these new experiences aren't too scarey for him. He doesn't mind doing or learning about new things, so the bath, clipping and braiding where not a problem.

Second Show: This past weekend was his 2nd show - just south of Edmonton. He was entered into 4 classes and he placed in three. His first 2 classes he won 2nd- English Equitation- English Pleasure. He won 4th in his 3rd class - Poles & cavallettis - Fences to 18' - Working Hunter Stake (jumping). He didn't place in his fourth class but I am sending you a short video clip of Court and him jumping at 2feet in this class. He was very good again. At this show he experienced many new things and very fast horses. He was very curious and interested in all the new things and fast horses; yet he behaved like a gentleman. He didn't spook at anything and he did what was asked of him. He is a good horse...Future continues to be very special to us.

Third Show: This past weekend we went to another show south of Edmonton and it was quite the experience... it rained all day and the events continued - nothing was cancelled, so the riders/horses competed in the rain. It was a very long and wet day - but at least it wasn't cold. Future and Courtney did very well at this show. They entered 8 classes and placed in 5 of them: All placings were in jumping classes:

They won 2 - 2nds:- Poles and cavallettis - Fences to 18" (open) - hunt seat- Beginner Horse/Rider - Fences to 2'0" - working hunter stake.

They won a 3rd:- Poles and cavallettis - Fences to 18" (open) - working hunter stake

They won a 4th:- Poles and cavallettis - Fences to 18" (open) - handy hunter
They won a 6th:- Beginner Horse/Rider - Fences to 2'0" - hunt seat

They didn't place in their 2 flat classes and one jumping class. The size of classes were generally 20+ competitors. So for their 3rd show and only 5 months of training they are doing fabulous.

Fourth Show: Last week was a very busy week for Future and Courtney, they were at 2 light horse shows.
They went to Lloydminster Exhibition.
They were there Tue night, Wed and Thu.
They were in 7 classes and placed in 4, here are their placings:
1st - Jumping (2' fences)
3rd - Equitation (junior B)
4th - Dressage (Level Test 2)
5th - English Pleasure (junior B)

Then on Sunday July 15 we went to Devon (near Edmonton) and they entered 8 Classes and placed in 7. Here are their placings for that:

2nd - Jumping over 2' fences - Hunt Seat
2nd - Jumping over 2' fences - Working Hunter Stake
3rd - Jumping over 2' fences - Handy Hunter
4th - Jumping over 18" fences - Hunt Seat
4th - Jumping over 18" fences - Handy Hunter
4th - English Equitation
5th - Jumping over 18" fences - Working Hunter Stake

So Future and Courtney have another 11 ribbons under their belts. Many people that we talked to are very impressed that Future has only 1/2 year training - how well he has done and continues to do in competitions against horses/riders with more experience and training.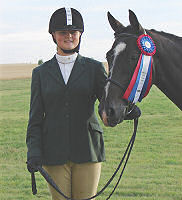 Fifth Show: Well, the show season is finally finished - and Future and Courtney finished with a bang! The results of their shows brought them
- 2 championships (2' Division Champion, 2' Division Overall Champion (jumping))
- 1 reserve championship (18' Division Reserve Champion)
Over the summer they won approximately 45 ribbons as well. Then, on top of these championships, they were chosen as the 'Athlete of the Week' in the local newspaper - as sponsored by Wainalta (car dealership).
January, 2009 UPDATE: "He is great! He has matured so much since we bought him from you. He is such a sweet horse and is always trying to please. He has such a personality and he makes sure everyone knows it. He is a big goof ball! One of his favorite treats is popcorn! Every time I see him I am amazed at how far he has come in such a short period of time. He takes everything in stride. Nothing ever phases him (apart from llamas). We have had lots of good times and lots of great experiences. We go an trail rides once a week, when the weather permits it and have 2-3 lessons per week. We even use him for a demo horse when the 4H comes for lessons. He is a very versatile horse, I have used him in trail, pleasure, dressage, jumping, and I've ridden him western pleasure as well. It doesn't matter what we are doing he is always responsive and listens to me. Everyone here loves him, and say that they have never met a horse like him. All show season we received many compliments about how handsome, easy going, smooth, and how much he has improved from last year. He LOVES jumping. This year we schooled to 3'! It was exciting. Right now we are taking a much needed break, and also because of the cold.

This year at the horse shows we did even better than last year. At the same hunter/jumper series we went to last year I got 2 reserve champions in 2'3 hunters and 2'6 hunters (it would have been champion in both but we could only go to 3/4 shows due to an injury). We placed in nearly every class we were in this summer at the open local shows. We mainly got 1st, 2nd, and 3rd. This year we added in a new show that I have never been to, The Trophy Show at Ebon Stables. We did so good there. We got the 2'6 junior hunter champion as well as a whole bunch of 2nds and 3rds."
click on images to view larger


Courtney riding 2ft jump course

2ft jump course video
Cactus Bars Otoe is shown in the following video clips.

To view the WMV format videos, click the pictures or the highlighted words beside their description.


These are file sizes from 3Mb to 5.8Mb and if you have dial-up they may take a few minutes to load
Download time for dial-up is approx 1Mb/2.5minutes or about 15minutes per video.




This video is of Ed riding at the trot [Dec 2006]


Ed TROT. (3.9Mb)






This 2nd video.....
Ed at the canter.


Ed CANTER. (3.72Mb)






This 3rd video.....
Courtney at the trot.


Court TROT. (3.58Mb)






This 4th video.....
Courtney & Lead Changes.


Court LEAD CHANGES. (4.47Mb)






This 5th video.....
Courtney Jumping.


Court JUMP. (3.28Mb)






This 6th video.....
Courtney Trot in February.


Court FEB - TROT. (5.36Mb)






This 7th video.....
Courtney Canter in February.


Court FEB - CANTER. (4.93Mb)