About Us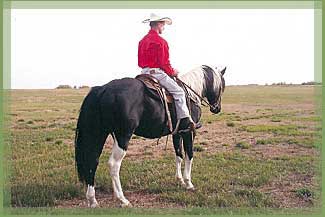 Living Water Paints and Quarters is located 26 miles North West of Saskatoon, south of the Borden bridge, and west on the Struan grid road #784. Edward Lesko began this ranch in 1996. Gail Lesko, who is Edward's wife, joined him in 2006. Together they enjoy the ranch and its unique horses.
Edward began with horses as a teenager. He and his younger brothers were responsible for the training and caring of their own horses. Edward pursued formal horsemanship education at Lakeland College in Vermilion, Alberta and completed the Ranch and Feedlot Rider Program in 2003.This program provided him with basic and performance training of horses as well as herd health, veterinary care and farrier skills. Ed's major interests involve:
basic and performance training
working cattle at ranches, feedlots and pastures
SRCHA - reining, cutting, roping, working cowhorse
parades and trail rides
Registered APHA and AQHA horses form the horse program. Ranch raised and trained horses of various ages are offered for sale. Most foals are sired by Cactus Bars McCue, an APHA Homozygous Black Tobiano stallion, originating from Iowa state, U.S.A. The mares were also carefully handpicked to produce top-quality foals. The desired results are horses with good conformation and dispositions. The horses are athletic and built for performance yet fun and safe to use.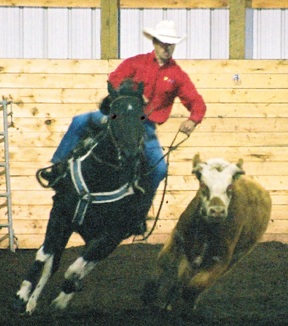 In 2002, Ed competed with his stallion in their 1st APHA district competition near Saskatoon. They won 2nd in Amateur Halter Stallions and Reserve Grand Champion Stallion. Ribbons were won in Western Pleasure and Western Horsemanship.
In 2004, Ed competed with his gelding in their 1st year with Saskatchewan Reined Cowhorse Association (SRCHA). In Rookie Rider Division, they tied for fifth place out of eleven competitors, competing in only 10 of 16 events.
In the fall of 2009 Ed competed at the Saskatoon APHA show with Cactus Bars McCue. Click on this direct link to see the pictures & details of their horse show.
THIRSTY MCCUE - Competition Gelding
| | |
| --- | --- |
| Bobby, Conrad and Ed Lesko | Contact us: |