Horses For Sale
Some of our horses for sale are sired by Cactus Bars McCue. His dam's half sister is Cactus Christy who is being recognized as a APHA Hall of Fame Horse in 2020 for cutting, halter, reining, Working Cow Horse & Western Pleasure. Contact us if you want to lease or purchase any of our mares that are not listed for sale. Prices are subject to change due to market fluctuations, training, inputs and time. If you are seriously wanting a horse from our website, contact Ed to discuss other terms or prices.
No riding horses started as of April 9th, 2021
We have planned to have no foals born in 2021. You can arrange to produce a foal you want by choosing to breed which mare & stallion are at my place with payment arrangements in place. Contact Ed for a 2022 foal as he plans to breed his B&W Pinto sire to some mares in 2021.
Most recent update April 9, 2021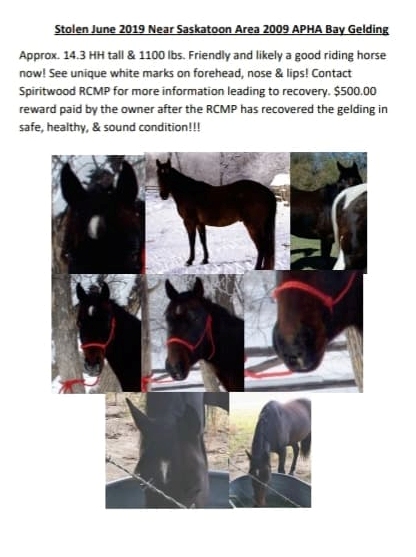 KINGS AZURE LENA
AQHA #4727695
2005 black stallion
Excellent herd stallion prospect
$1950.00 - Sold


---




DOX BEST DELIGHT aka "Jasper"
APHA #932,908
2007 black stallion
$3,100.00 - Inquire


---




DOX BEST FREEDOM aka "Freely"
AQHA Reg#5007500, APHA Reg#933,579
2007 sorrel stallion
$3,200.00 - Inquire



back to top

---



MS OTOE'S NATURAL BAR
APHA Reg#00638213
2001 brown tobiano mare

A lame broodmare or companion horse, still walks on all four grazing good on pasture, from a really good dam & sire.
SOLD

CACTUS BARS DELIGHT
APHA Reg#713502
2002 solid black mare

$2,400.00 - Inquire


---




BOONE'S TOP DECK CHICK
APHA #00633850
2001 brown tobiano mare

SOLD


---




Kings Cactus Delight aka "Glory"
APHA #978,854
2008 black mare
Sire: Kings Azure Lena
Dam: Cactus Bars Delight
$1,800.00 - Inquire


---




King Otoes Fan aka "Zoe"
AQHA #5137269
2008 sorrel mare
Sire: Kings Azure Lena
Dam: Otoes Skip Fan
$2,000.00


---




Miss Pearly Gaitz aka "Pearly"
APHA #914,483
2007 black tobiano mare
Sire: Cactus Bars McCue
Dam: Otoes Miss April Bar
$3,100.00 - Inquire


---




MS Otoes McCue Bar
APHA # 894,864
2006 bay mare
Sire: Cactus Bars McCue
Dam: Ms Otoes Natural Bar
$1,500.00 - Inquire


---




Buck McCues Otoe
APHA
2006 black tobiano mare
Sire: Cactus Bars McCue
Dam: Ms Otoes Natural Bar
$2,000.00 - Inquire


---




McCue's Cool Cactus
APHA #839,366
2005 bay tobiano mare
Sire: Cactus Bars McCue
Dam: Otoes Cool Fan Flys
$3,000.00 - Inquire


---




Ms.War Bars Delight
APHA# 791,097
2004 bay tobiano mare
Sire: Cactus Bars McCue
Dam: WAR BARS DELIGHT
$2,000.00 - Inquire


---




Ms. Cue Bars Freedom
APHA 791095
2004 bay tobiano mare
Sire: Cactus Bars McCue
Dam: CUE BARS FREEDOM
$2,000.00 - Inquire


---




Otoe's Cactus Skip
APHA #798988
2004 solid bay mare
Sire: Cactus Bars McCue
Dam: OTOE'S SKIP FAN
$1,500.00 - Inquire


---




Top Cactus Bars Chick
APHA #798858
2004 bay tobiano mare
Sire: Cactus Bars McCue
Dam: LUCKSTOPCHICKLADY
$1,750.00 - Inquire


---




Cactus Bars Chick
APHA 776279
2003 solid black mare
Sire: Cactus Bars McCue
Dam: LUCKSTOPCHICKLADY
Sold


---




OTOE'S COOL FAN FLYS
AQHA X0564796
1998 brown mare
Sire: OTOE'S COOL FAN
Dam: BATEY FLY
$1,800.00 - Inquire


---




OTOE'S SKIP FAN
AQHA 3755413
1998 sorrel mare
Sire: OTOE'S COOL FAN
Dam: SKIPS FAN
Sold



back to top

---



Otoes Banner B
APHA #970,279
2009 solid bay gelding
Sire: Cactus Bars McCue
Dam: Otoes Miss April Bar
$1,500.00 - Inquire

---




Buck McCues Natural Bar
APHA #970,280
2009 bay tobiano gelding
Sire: Cactus Bars McCue
Dam: Boones Top Deck Chick
$1,600.00 - Inquire

---




Otoes Buck McCue
APHA #970,277
2009 bay tobiano gelding
Sire: Cactus Bars McCue
Dam: Otoes Cool Fan Flys (AQHA Appendix)
$1,600.00 - Inquire

---




Cue Bars Peppy
APHA #976,430
2009 solid bay gelding
Sire: Cactus Bars McCue
Dam: Cue Bars Freedom (AQHA)
$1,500 - Inquire

View detailed information & pedigree


HORSE STOLEN! Please call Crime Stoppers if seen.

---




Cactus Bars Freedom
APHA #894,848
2006 bay tobiano gelding
Sire: Cactus Bars McCue
Dam: Cue Bar's Freedom
$1,600 - Inquire

---




WAR BARS CACTUS
APHA #839,367
2005 bay tobiano gelding
Sire: Cactus Bars McCue
Dam: War Bars Delight
Suitable for companion horse only
$500 - Inquire

---




Kings Otoe Fan
AQHA #4727694
2005 bay gelding
Sire: Kings Gentle Breeze
Dam: Otoe's Skip Fan
$750 Sold

---




LEO'S SUGAR CACTUS
APHA #798987
2004 bay gelding
Sire: Cactus Bars McCue
Dam: OTOE'S COOL FAN FLYS
$1,500 - Inquire

---




OTOE'S CACTUS FAN
APHA 763161
2003 solid brown gelding
Sire: Cactus Bars McCue
Dam: OTOE'S COOL FAN FLYS
Sold


back to top

---